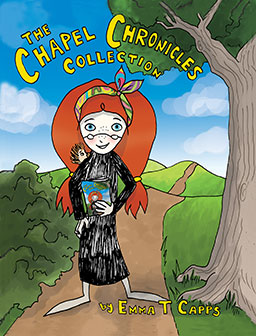 We read a lot in our house. From classic novel to comics, I try to make sure that my kids read at least 20 minutes a day. To foster a love of reading, I try to find lots of relate-able books for the kids. For us, the stories need to be real situations, personal characters and current topics.
Recently, our family had a chance to read
The Chapel Chronicles
. This four panel strip follows the adventures of Chapel Smith. Chapel is a young girl who loves hats and occasionally gets into trouble. With her pet Hedgehog, Rupert, she relates the missteps of a young girl in today's world. With her vivid imagination and it, Chapel gets her in and out of trouble in a myriad of ways.
What our family liked about this series is that you could see that the series is written by a young girl. These stories are events that have or could happen to any child. Stories written by adults trying to relate to kids do not have the appearance of authenticity. These series make kids want to read them because the events mirror their lives.From ipod confiscation to babysitter annoyance, each scenario sounds like a moment from our lives.
Chapel Chronicles is written by Emma T Capps. This 14 year old girl has won a Gold Medal in the 2011 Scholastic Art and Writing Awards for her book Jam Days and a Merit Award from California for her poetry collection Postcard Dream. Also, she was the youngest exhibitor at the Museum of Comic Art's MoCCA Fest in 2011.
In addition to the weekly web comic, The Chapel Chronicles offers a collection of greeting cards and gifts.
If you are looking to engage your children in more reading, consider introducing them to The Chapel Chronicles.
Win The Chapel Chronicles prize pack today! Use the Rafflecopter form to enter.
a Rafflecopter giveaway
Disclosure
: I received one or more of the products mentioned above for free using
Mom Blog Society
Regardless, I only recommend products or services I use personally and believe will be good for my readers