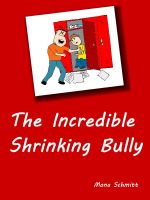 As a parent, we have to confront some very difficult issues. Recently in our house my oldest child was bullied. He wasn't hit, thrown into a locker or physically touched, but a group of children continually ganged up on him. This group of four kids continually isolated him and made him feel inferior. No matter how many times I tried to stop the situation, the kids kept it up. The final straw was when I saw my child on the bus crying. It had to stop.
In our case we contacted the school and made them aware of the problem. More importantly we gave our son some tools to help him stand up to these mean kids. Also, we talked to our fiends about the other kids standing up against the bad behavior. With a multifaceted approach, my son had the courage to stand up for himself and not allow the poor behavior affect him any more.
I was offered the opportunity to review the book, The Incredible Shrinking Bully. I think this book is a must read for families, caregivers and schools.
The premise of the book is simple. Frank is a horrible bully. He picks on several children for a variety of reasons. Every time he bullies someone he gets bigger while the person picked on gets smaller. When the children stand up together and refuse to back down, Frank can no longer have power over them. Frank becomes small and the kids become larger. The kids have become empowered and they won't allow anyone to be bullied any more.
There is one phrase from the book that I focused on with my children. It says "Speak Up, Stand Up and Stand Together." In our situation, it took a group to stop the bad behavior. With the friends and school denouncing the actions against my child, it was easier for others to see the problem. Of course, we would have hoped that the bulling wouldn't have occurred, but we have given our children the tools to fight against this behavior in the future.
Would your family benefit from a copy of the Incredible Shrinking Bully? I have 5 copies to give to my readers.
Please use the Rafflecopter form to enter.
Don't let bullies get bigger.
Speak up, Stand Up and Stand Together
against bullying!
a Rafflecopter giveaway