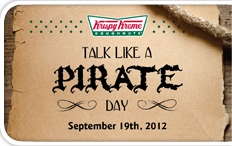 It's International Talk Like a Pirate Day!
Head over to your local Krispy Kreme for free donuts.
Break out your best pirate speak for a free donut. If you more ambitious, wear a pirate inspired outfit for a free dozen of donuts.
Arrrggghh. too bad I don't have a Krispy Kreme closer to me!